Helping "tweens" navigate social networks

1. Set limits. What sites are acceptable or forbidden? Set time limits.
2. Guide their choices. Help your child use appropriate sites. Did you know Facebook requires users to be at least 13?
3. Stay connected. Check in on his online activity from time to time.
4. Keep talking. Ask questions often, such as who your child's online friends are and how many he has.
Nobody has that many friends in real world. Make sure he isn't friends with strangers.
5. Warn against predators. Talk to your child about
online dangers
. Insisting he not give his address or try to meet up with someone he met online.
6. Watch for signs of cyberbullying
. Encourage your child to come to you if he is harassed on line
.
7. Be open, Instead of letting your vulnerable child disappear into his room with his own computer, maintain a family computer in the main living area
8. Discuss consequences. Young people may not understand how a mean comment can have serious
consequences.
Here's what Congress advised for the use of the U.S. flag in a joint resolution dated June 22, 1942.
The flag of the United States is the emblem of our identity as a separate nation, which the United States of America has been for more than 200 years. Therefore, citizens should stand at attention and salute when their flag is passing in a parade or being hoisted or lowered.
It should be displayed at every public institution and in or near every polling place on election day, and at schools during school days.
It should be at the center and the highest point when displayed with a group of state flags.
When displayed from a staff in a church or auditorium, the flag should occupy the position of honor and be placed at the speakers right as he faces the audiences.
www.almanac.com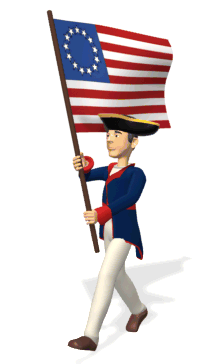 My
name is Mrs. Helen Verity and I am the guidance counselor at the Upper Elementary School. This is my fourteenth year working in the North Hanover Township School District. I have a bachelors and masters degree in math and a masters degree in counseling. My husband and I are the proud parents of a daughter and two sons who attend
Richard Stockton College, Montclair University, and The College of New Jersey.
We also have a cat named Woowee. I enjoy running, reading, baking, skiing, traveling, and spending time with my family.
The goal of the counseling program is to help students succeed and have a positive school experience. This is done in partnership with the faculty, staff, parents and community. I also serve as the school Anti-Bullying specialist.